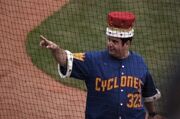 King Henry is the local entertainer and current on field entertainer for the Brooklyn Cyclones since 2003.
He wears number 323. He replaced "Party Marty" Haber. He was joined by Jay Moran, Jason Negron but they never replaced him.
Ad blocker interference detected!
Wikia is a free-to-use site that makes money from advertising. We have a modified experience for viewers using ad blockers

Wikia is not accessible if you've made further modifications. Remove the custom ad blocker rule(s) and the page will load as expected.