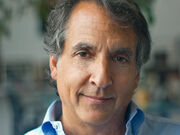 Kenneth B. Lerer is an American businessman and media executive.
New York Mets
Edit
Lerer bought a $20 million dollar share of the New York Mets making him a minority owner of the ball club. He bought the share on March 21,2012 along with Robert W. Pittman.
Ad blocker interference detected!
Wikia is a free-to-use site that makes money from advertising. We have a modified experience for viewers using ad blockers

Wikia is not accessible if you've made further modifications. Remove the custom ad blocker rule(s) and the page will load as expected.