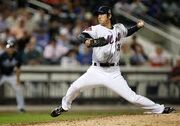 Ken Takahashi (高橋 建Takahashi Ken?, born April 16, 1969) is a Japanese professional baseball player who currently plays for the Hiroshima Toyo Carp in Japan's Nippon Professional Baseball. He also played for them in 1995-2008 & the New York Mets in 2009.
On May 2, 2009, Ken made his major league debut for the Mets.
Then later in the year on October 20, 2009, he was released by the Mets.
Ad blocker interference detected!
Wikia is a free-to-use site that makes money from advertising. We have a modified experience for viewers using ad blockers

Wikia is not accessible if you've made further modifications. Remove the custom ad blocker rule(s) and the page will load as expected.