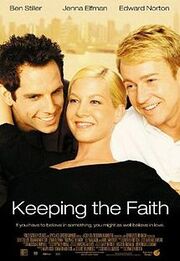 Keeping the Faith is a 2000 American romantic comedy film, written by Stuart Blumberg and directed by Edward Norton. It stars Ben Stiller, Norton, Jenna Elfman, Eli Wallach, and Anne Bancroft. This film was released by Touchstone Pictures and Spyglass Entertainment, in association with Triple Threat Talent on April 14, 2000.
As Father Brian Kilkenney Finn (Edward Norton) tells the story of his friendship with Rabbi Jacob "Jake" Schram (Ben Stiller) and Anna Reilly (Jenna Elfman) when they were kids, they are seen in their teenage years at Shea Stadium watching the Mets game and celebrating when a run scores.
Ad blocker interference detected!
Wikia is a free-to-use site that makes money from advertising. We have a modified experience for viewers using ad blockers

Wikia is not accessible if you've made further modifications. Remove the custom ad blocker rule(s) and the page will load as expected.