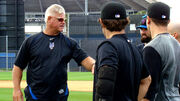 Jon Debus (born August 31, 1958 in Chicago Heights, Illinois) is an American former Minor League Baseball catcher, first baseman, third baseman, outfielder, and manager and former Major League Baseball coach.
On December 13, 2010, he was one of the new coaches for the Mets starting from the 2011 Season. He replaced Randy Niemann.
On October 5, 2011, the Mets announced that Jon, Ken Oberkfell, Chip Hale and Mookie Wilson will not return for the 2012 Season.
He was replaced by Ricky Bones.
Ad blocker interference detected!
Wikia is a free-to-use site that makes money from advertising. We have a modified experience for viewers using ad blockers

Wikia is not accessible if you've made further modifications. Remove the custom ad blocker rule(s) and the page will load as expected.