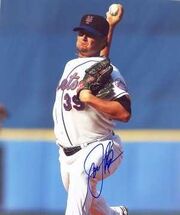 Jonathan Scott Adkins (born August 30, 1977 in Huntington, West Virginia) is a former MLB pitcher who is currently a scout for the Boston Red Sox. He was traded to the Mets from the San Diego Padres with Ben Johnson for Heath Bell and Royce Ring. The trade occurred on November 15,2006. He only played for the mets in 2007.
Ad blocker interference detected!
Wikia is a free-to-use site that makes money from advertising. We have a modified experience for viewers using ad blockers

Wikia is not accessible if you've made further modifications. Remove the custom ad blocker rule(s) and the page will load as expected.