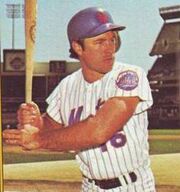 John Hardin Stearns (born August 21, 1951) is a former Major League Baseball catcher. He was a Met from 1975 to 1984.
He was traded to the New York Mets from the Philadelphia Phillies for Tug McGraw along with Don Hahn and Dave Schneck on December 3, 1974. His last game was on September 30, 1984.
Stearns was the coach for the Mets from 2000-2001. In 1999 he joined the organization as an advanced scout. In 2000 he became the bench coach. In '01 he was moved to third base to become the third base coach. In 2002 he became a scout. From 2003 until 2004 he managed in the Mets farm system. In '05 he was a roving catching instructor.
On January 11, 2006 he left the Mets organization.
Ad blocker interference detected!
Wikia is a free-to-use site that makes money from advertising. We have a modified experience for viewers using ad blockers

Wikia is not accessible if you've made further modifications. Remove the custom ad blocker rule(s) and the page will load as expected.