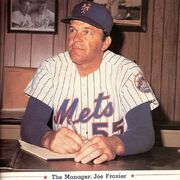 Joseph Filmore Frazier (October 6, 1922 – February 15, 2011) was a former outfielder and manager in Major League Baseball.
New York Mets
Edit
He replaced Roy McMillan as manager. He served as manager from 1976-1977. He was then replaced by Joe Torre.
Stengel * Westrum * Parker * Hodges * Berra * McMillan * Frazier * Torre * Bamberger * Howard * Johnson * Harrelson * Cubbage * Torborg * Green * Valentine * Howe * Randolph * Manuel * Collins
Ad blocker interference detected!
Wikia is a free-to-use site that makes money from advertising. We have a modified experience for viewers using ad blockers

Wikia is not accessible if you've made further modifications. Remove the custom ad blocker rule(s) and the page will load as expected.