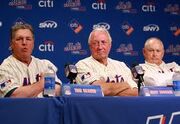 Jerome Martin Koosman(born December 23, 1942, his last name was originally Koosmann) is a former left-handed starting pitcher in Major League Baseball who played for the New York Mets, Minnesota Twins, Chicago White Sox and Philadelphia Phillies between 1967 and 1985. He was generally considered the #2 starter on the Miracle Mets (behind Tom Seaver) when they won the World Series in 1969.
Ad blocker interference detected!
Wikia is a free-to-use site that makes money from advertising. We have a modified experience for viewers using ad blockers

Wikia is not accessible if you've made further modifications. Remove the custom ad blocker rule(s) and the page will load as expected.