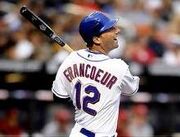 Jeffrey Brandon Francoeur (born January 8, 1984) is a outfielder who is playing with the Kansas City Royals.
He was traded to the Mets for Ryan Church from the Atlanta Braves on July 10. On July 11 he played his first game as a met and in his first at-bat he drove in 2 runs behind the first base bag. He bats from the right side so it was an opposite field base hit. It was at home against the Cincinnati Reds.
He hit his first homerun as a met on July 20. On August 23 he ended a game against the Philadelphia Phillies at home which became a unassisted triple play. For the article see Francoeur Triples Out.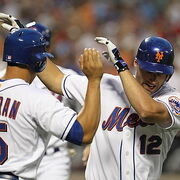 He was traded to the Rangers for Joaquin Arias on August 31, but it was official on September 1. To see the article on his trade see Frenchy Gone, Mets Not.