Jason Orville Pridie (born October 9, 1983 in Phoenix, Arizona) is a Major League Baseball outfielder for the Oakland Athletics.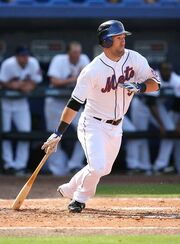 On February 9 Jason was claimed off waivers from the Minnesota Twins by the Mets.
Age: 28 (born October 9,1983)
Position: Outfielder
Bats: Left Throws: Right
Number: 20
Acquired: Waivers
Contract: Minor League
He got his first Major League hit on April 23. He got his first Major League Homerun on April 24, a 3-run homerun which was the Mets first off the year. To see the article on his first homerun see Twice by Wright, Once by Pridie.
On November 11 he was sent down to the minors along with Nick Evans. Then on November 14 he became a free agent along with Evans and Taylor Buchholz. Later on Jason signed a minor league deal with the Oakland Athletics on November 15.
Ad blocker interference detected!
Wikia is a free-to-use site that makes money from advertising. We have a modified experience for viewers using ad blockers

Wikia is not accessible if you've made further modifications. Remove the custom ad blocker rule(s) and the page will load as expected.