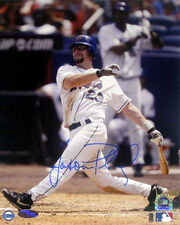 Jason Lloyd Phillips (born September 27, 1976 in La Mesa, California) is a former Major League Baseball catcher and first baseman. He played for the Mets from 2001-2004.
He began his career on September 19,2001 with the New York Mets. Later in is career in 2003 he was the back-up catcher for the Mets for legend Mike Piazza.
On March 20,2005, the New York Mets acquired Kazuhisa Ishii in exchange for catcher Jason Phillips to replace injured starting pitcher Steve Trachsel.
Ad blocker interference detected!
Wikia is a free-to-use site that makes money from advertising. We have a modified experience for viewers using ad blockers

Wikia is not accessible if you've made further modifications. Remove the custom ad blocker rule(s) and the page will load as expected.