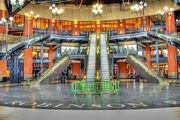 The front entrance of Citi Field features a rotunda named after Brooklyn Dodgers legend Jackie Robinson and honors his life and accomplishments. Engraved into the rotunda's 160-foot diameter floor and etched into the archways are words and larger-than-life images that defined Robinson's nine values: Courage, Excellence, Persistence, Justice, Teamwork, Commitment, Citizenship, Determination and Integrity. Robinson's famous quote: "A life is not important except in the impact it has on other lives," is engraved into the upper ring of the rotunda. There is also an 8 foot sculpture of Robinson's number 42. The formal dedication of the Jackie Robinson Rotunda was held as part of Major League Baseball's official celebration of Jackie Robinson Day on April 15, 2009.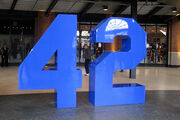 Ad blocker interference detected!
Wikia is a free-to-use site that makes money from advertising. We have a modified experience for viewers using ad blockers

Wikia is not accessible if you've made further modifications. Remove the custom ad blocker rule(s) and the page will load as expected.