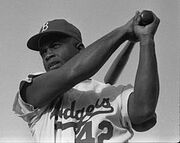 Jackie Robinson Day is a special day where all of MLB honor Jackie Robinson. The first time it was celebrated was on April 15, 2004. It is always celebrated on April 15. The Mets also honor Robinson.
At Citi Field the Mets have a Jackie Robinson Rotunda in a way to honor Jackie. The first time the Mets honored Jackie at Citi Field was on April 15, 2009.
Ad blocker interference detected!
Wikia is a free-to-use site that makes money from advertising. We have a modified experience for viewers using ad blockers

Wikia is not accessible if you've made further modifications. Remove the custom ad blocker rule(s) and the page will load as expected.