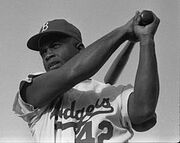 Jack Roosevelt "Jackie" Robinson (January 31, 1919 – October 24, 1972) was an American baseball player who became the first black Major League Baseball (MLB) player of the modern era. Robinson broke the baseball color line when he debuted with the Brooklyn Dodgers in 1947. As the first black man to play in the major leagues since the 1880s, he was instrumental in bringing an end to racial segregation in professional baseball, which had relegated black players to the Negro leagues for six decades. The example of his character and unquestionable talent challenged the traditional basis of segregation, which then marked many other aspects of American life, and contributed significantly to the Civil Rights Movement.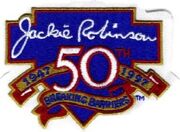 His number 42 was retired by all of baseball and Jackie Robinson Day is the day where all the teams honor him. At Citi Field there is the Jackie Robinson Rotunda where it shows his legacy and it's impact on the major leagues. In 1997 the team wore a patch on the right sleeve honoring the 50th anniversary of Robinson breaking the color barrier in baseball.
Ad blocker interference detected!
Wikia is a free-to-use site that makes money from advertising. We have a modified experience for viewers using ad blockers

Wikia is not accessible if you've made further modifications. Remove the custom ad blocker rule(s) and the page will load as expected.