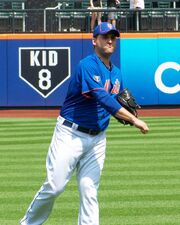 Jack Egbert (born May 12, 1983) is a Major League Baseball relief pitcher who is a free agent.
Age: 29 (born May 12,1983)
Position: Pitcher
Bats: Left Throws: Right
Number: 61
Acquired: Waivers
Contract: Minor League
He was claimed off waivers by the Mets from the Colorado Rockies on September 25.
On February 9 he was DFA'd.
He spent the entire year with the Buffalo Bisons.
On May 25 he was called up to the Mets replacing Robert Carson. On May 28 he played his first game as a Met for the first time. He pitched 0.2 of a inning giving up no hits and or runs. For more on his debut see Mets lose see-saw battle to the Phillies. He was DFA'd on June 5 in order to make room for Chris Young. He was sent down to the Bisons along with Josh Satin on June 8.
On October 6 along with Garrett Olson he became a free agent.
Ad blocker interference detected!
Wikia is a free-to-use site that makes money from advertising. We have a modified experience for viewers using ad blockers

Wikia is not accessible if you've made further modifications. Remove the custom ad blocker rule(s) and the page will load as expected.