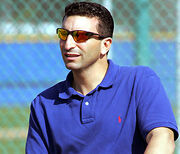 John Paul (J. P.) Ricciardi (born September 26, 1959 in Worcester, Massachusetts) is a Major League Baseball executive who currently is a special assistant to New York Mets General Manager Sandy Alderson.
He joined the Mets in November of 2010. He served with Bryan Lambe and Wayne Krivsky just for the 2011 season.
Ad blocker interference detected!
Wikia is a free-to-use site that makes money from advertising. We have a modified experience for viewers using ad blockers

Wikia is not accessible if you've made further modifications. Remove the custom ad blocker rule(s) and the page will load as expected.