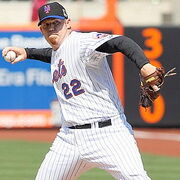 Joseph Jason "J. J." Putz (pronounced /ˈpʊts/; born February 22, 1977) is a Major League Baseball pitcher for the Arizona Diamondbacks. He played for the Mets in 2009. He was part of the trade that he,Sean Green and Jeremy Reed to the mets on December 10,2008.
He wanted to extend his contract but the Mets said no and there he became a free-agent before signing with the White Sox. When he came to the Mets he told the media that he had a bone spur that happened before he came to the Mets. He left on November 6 which made him a free-agent.
The Mets told him not to talk about it in the first place.
Ad blocker interference detected!
Wikia is a free-to-use site that makes money from advertising. We have a modified experience for viewers using ad blockers

Wikia is not accessible if you've made further modifications. Remove the custom ad blocker rule(s) and the page will load as expected.