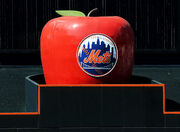 Another tradition from Shea Stadium making an appearance in Citi Field is the Home Run Apple. When a Mets player hits a home run, the giant apple, which has a Mets logo on the front that lights up, rises from its housing in the center field batter's eye. The new apple that has been constructed for Citi Field is more than four times the size of the previous one and was designed by Minneapolis-based engineering firm Uni-Systems. Shea's original apple was located inside Citi Field's bullpen entrance gate for the 2009 season. In 2010, the Shea apple was relocated outside the ballpark, in front of the Jackie Robinson Rotunda.
Ad blocker interference detected!
Wikia is a free-to-use site that makes money from advertising. We have a modified experience for viewers using ad blockers

Wikia is not accessible if you've made further modifications. Remove the custom ad blocker rule(s) and the page will load as expected.