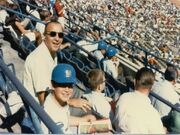 Helmet Day is a New York Mets tradition where the fans get free helmets when entering the game at Shea Stadium. It was common in the early 60's until the late 80's and a part of the 90's.
"the bunt" • "the catch" • Alex Anthony • Banner Day • Can't Anybody Here Play This Game? • Chico Escuela • Cowbell Man • Family Day • Frequency • Game 6 • Generation K • George Kalinsky • Grand Slam Single • Helmet Day • Jane Jarvis • Kiner's Korner • "Let's Go Mets Go" • Logos and uniforms of the New York Mets • Lovable Losers • Mathematically Alive • "Meet the Mets" • Mettle the Mule • Michael Sergio • Mr. Met • Mrs. Met • Sidd Finch • Sign Man • "The Boyfriend" • The Odd Couple • The Worst Team Money Could Buy: The Collapse of the New York Mets • Ya Gotta Believe • Mets in Popular Culture
Ad blocker interference detected!
Wikia is a free-to-use site that makes money from advertising. We have a modified experience for viewers using ad blockers

Wikia is not accessible if you've made further modifications. Remove the custom ad blocker rule(s) and the page will load as expected.