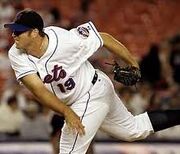 Heath Justin Bell (born September 29, 1977 in Oceanside, California) is a right-handed pitcher in Major League Baseball with the San Diego Padres.
He was a Met from 2004 to 2006. He day view was on August 24,2004.
On November 15, 2006, Bell was traded to San Diego, along with pitcher Royce Ring, for outfielder Ben Johnson and relief pitcher Jon Adkins.
He faced the Mets in a huge loss. To see more click Baxter,Duda Rally over Padres.
Ad blocker interference detected!
Wikia is a free-to-use site that makes money from advertising. We have a modified experience for viewers using ad blockers

Wikia is not accessible if you've made further modifications. Remove the custom ad blocker rule(s) and the page will load as expected.