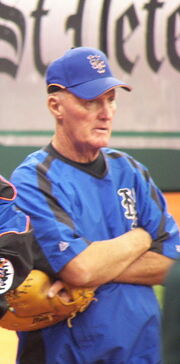 Guy Clyde Conti (born March 9, 1942 in Pittsburgh, Pennsylvania) is a former Major League Baseball bullpen coach.
He was the New York Mets bullpen coach from 2005-2008. He was hired in the winter of 2004 by former manager Willie Randolph. In 2013 he filled in for Ricky Bones for two days as the bullpen coach. In 2014 he filled as the bench coach for Bob Geren and as the pitching coach for Dan Warthen.
Ad blocker interference detected!
Wikia is a free-to-use site that makes money from advertising. We have a modified experience for viewers using ad blockers

Wikia is not accessible if you've made further modifications. Remove the custom ad blocker rule(s) and the page will load as expected.