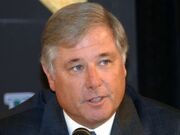 Gerald Hunsicker (born June 10, 1950, in Collegeville, Pennsylvania) is the senior vice president, baseball operations for the Tampa Bay Rays of Major League baseball. Hunsicker has been an executive with the New York Mets.
From 1988-1992, he held various positions with the New York Mets including director of minor league operations and assistant general manager. One of his roles was Assistant Vice President of Baseball Operations (Assistant GM) from 1993-1995.
Ad blocker interference detected!
Wikia is a free-to-use site that makes money from advertising. We have a modified experience for viewers using ad blockers

Wikia is not accessible if you've made further modifications. Remove the custom ad blocker rule(s) and the page will load as expected.