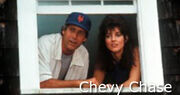 Funny Farm is a 1988 film starring Chevy Chase and Madolyn Smith. The film was adapted from a 1985 comedic novel of the same name by Jay Cronley. The movie was filmed on location in Vermont, mostly in Townshend, Vermont. It was the final film directed by George Roy Hill.
Andy Farmer (Chevy Chase) is a New York City sports writer and is seen wearing a Mets cap in the film.
Ad blocker interference detected!
Wikia is a free-to-use site that makes money from advertising. We have a modified experience for viewers using ad blockers

Wikia is not accessible if you've made further modifications. Remove the custom ad blocker rule(s) and the page will load as expected.