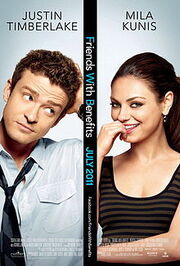 Friends with Benefits is a 2011 American romantic comedy film directed by Will Gluck and starring Justin Timberlake and Mila Kunis. The film features a supporting cast that includes Patricia Clarkson, Jenna Elfman, Bryan Greenberg, Nolan Gould, Richard Jenkins and Woody Harrelson.
In one sequence, they are going at it in bed while the Mets are on TV and there is a close-up of #7, Jose Reyes, who runs the bases after smashing a homer. Then there is a Mets logo on the screen. Several trysts later, a Mets cap is spied atop a drawer.
Ad blocker interference detected!
Wikia is a free-to-use site that makes money from advertising. We have a modified experience for viewers using ad blockers

Wikia is not accessible if you've made further modifications. Remove the custom ad blocker rule(s) and the page will load as expected.