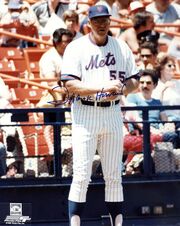 Frank Oliver Howard (born August 8, 1936 in Columbus, Ohio), nicknamed "Chico", "The Washington Monument", and "The Capital Punisher", is a former left and right fielder, coach and manager in Major League Baseball.
New York Mets
Edit
Frank was the manager for the New York Mets only in 1983. He replaced George Bamberger. He also was the coach from 1982-1984, 1994-1996. He was then replaced as manager by Davey Johnson.
Stengel * Westrum * Parker * Hodges * Berra * McMillan * Frazier * Torre * Bamberger * Howard * Johnson * Harrelson * Cubbage * Torborg * Green * Valentine * Howe * Randolph * Manuel * Collins
Ad blocker interference detected!
Wikia is a free-to-use site that makes money from advertising. We have a modified experience for viewers using ad blockers

Wikia is not accessible if you've made further modifications. Remove the custom ad blocker rule(s) and the page will load as expected.