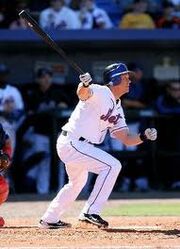 Frank John Catalanotto (pronounced Ca-ta-la-not-toe) (born April 27, 1974 in Smithtown, New York) is an American professional baseball player who is currently a free agent. Nicknamed "Little Cat", the Long Island native bats left-handed and throws right-handed. In his career, Catalanotto has played all infield and outfield positions except shortstop and center field.
On January 30, 2010, Frank signed a minor league contract with the Mets.
On May 10, 2010 the Mets announced that Catalonotto had been designated for assignment, a move that he felt might signal "the end of [his MLB] career". Chris Carter was brought up from the Buffalo Bisons to fill Catalonotto's roster spot.
Ad blocker interference detected!
Wikia is a free-to-use site that makes money from advertising. We have a modified experience for viewers using ad blockers

Wikia is not accessible if you've made further modifications. Remove the custom ad blocker rule(s) and the page will load as expected.