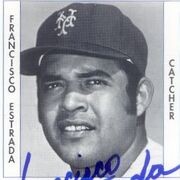 Francisco "Paquín" Estrada Soto (born February 12, 1948) is a former Major League Baseball catcher. He only played one day in the Majors which was on September 14, 1971. The team he played for were the New York Mets.
In the United States, he is probably best known for being part of the trade that sent Nolan Ryan and three others, including Estrada, to the California Angels for Jim Fregosi.
Ad blocker interference detected!
Wikia is a free-to-use site that makes money from advertising. We have a modified experience for viewers using ad blockers

Wikia is not accessible if you've made further modifications. Remove the custom ad blocker rule(s) and the page will load as expected.