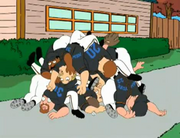 Family Guy is an American adult animated sitcom created by Seth MacFarlane for the Fox Broadcasting Company. The series centers on the Griffins, a dysfunctional family consisting of parents Peter and Lois; their children Meg, Chris, and Stewie; and their anthropomorphic pet dog Brian. The show is set in the fictional city of Quahog, Rhode Island, and exhibits much of its humor in the form of cutaway gags that often lampoon American culture.
The Mets have appeared twice in the show. In Lethal Weapons the 7th episode of the 3rd season, the entire New York Mets team is piled on Peter's lawn when he complains about the trash left behind by the leafers.
The next appearance was a controversial one as in the episode Halloween on Spooner Street, the 4th episode of the 9th season, Stewie compares his Halloween experience to being a Met fan. He is then shown at a game where an announcer laments that the season is over after a single pitch is thrown. Stewie throws his hat down in disgust. This cutaway references how the New York Mets in recent seasons have fallen behind near the end after a successful start. The controversy came after the Mets game on opening day in 2011 where the Mets who were visiting the Marlins lost the game 6-2. The episode which came out in 2010 was aired during the Mets post game recap. The TV technician who is unknown was fired within several days. He used to work for SNY.
Ad blocker interference detected!
Wikia is a free-to-use site that makes money from advertising. We have a modified experience for viewers using ad blockers

Wikia is not accessible if you've made further modifications. Remove the custom ad blocker rule(s) and the page will load as expected.