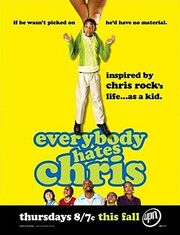 Everybody Hates Chris is an American television narrative sitcom that depicts the troubled teenage experiences of comedian Chris Rock while growing up in Bedford-Stuyvesant, Brooklyn, New York City. The show is set between 1982 and 1987, but Rock himself was a teenager between 1978 and 1983. Rock grew up with a boy named Kenny Montero, whom he has often referred to as the inspiration for a lot of the episodes. In many of his interviews, Rock has described Kenny as the reason he got into comedy in the first place. The show's title parodies the hit CBS sitcom Everybody Loves Raymond, in which Rock stated: "Everybody Loves Raymond, but Everybody Hates Chris!". The show's lead actors are Tyler James Williams, Terry Crews, Tichina Arnold, Tequan Richmond, Imani Hakim, and Vincent Martella.
Chris Rock character, his dad and brother are Mets fans in the show as well as Chris Rock is a Mets fan in real life.
In "Everybody Hates Baseball" the 18th episode of the second season Chris must decide whether he wants to go to a Mets game with his father and brother or to go see Back to the Future with Tasha. However the tickets they get are from the previous year and instead of going into Shea Stadium they go to a local bar instead to watch the Mets game.
Ad blocker interference detected!
Wikia is a free-to-use site that makes money from advertising. We have a modified experience for viewers using ad blockers

Wikia is not accessible if you've made further modifications. Remove the custom ad blocker rule(s) and the page will load as expected.