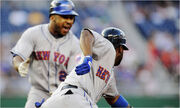 Emil Quincy Brown (born December 29, 1974 in Chicago, Illinois) is an American professional baseball player who is currently a free agent.
On May 28 he was taken by the mets and moved to the minors. He was DFA'd on June 6. Brown was released by the Mets on July 22, 2009, to make room for Ryan Church.
Ad blocker interference detected!
Wikia is a free-to-use site that makes money from advertising. We have a modified experience for viewers using ad blockers

Wikia is not accessible if you've made further modifications. Remove the custom ad blocker rule(s) and the page will load as expected.