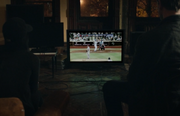 Elementary is an American crime drama series that premiered on CBS on September 27, 2012. It presents a contemporary update of Sir Arthur Conan Doyle's character Sherlock Holmes set in the United States. It stars Jonny Lee Miller as Sherlock Holmes and Lucy Liu as Dr. Joan Watson. Holmes is a former consultant to Scotland Yard, and also an addict. He travels to New York City to check into a rehabilitation center then lives with Watson, who becomes his sober companion and eventually his apprentice.
The Mets are only seen in the pilot episode (image on the right) of the series as in the end of the episode Lucy Liu's character is a Mets fan and is wearing a black Mets cap. The two main characters are watching a Mets game from 2011 on SNY (which you can tell if you notice the old flat out top of the screen scoreboard). The Mets are facing the Reds at their home game with the score being 3-2 in the bottom of the ninth with no outs. However Holmes predicts the ending of the game as the Mets lose. Also the announcers voices on TV are not of those of either Gary Cohen, Ron Darling or Keith Hernandez who do the Mets television broadcasts. That clip can be seen here. The game being seen is fake as that can be explained here.
Ad blocker interference detected!
Wikia is a free-to-use site that makes money from advertising. We have a modified experience for viewers using ad blockers

Wikia is not accessible if you've made further modifications. Remove the custom ad blocker rule(s) and the page will load as expected.