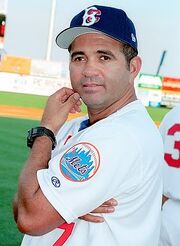 Edgar Alexander Alfonzo (born June 10, 1967 in Caracas Venezuela) is a former minor league coach and manager in the New York Mets organization. He is the older brother of Edgardo Alfonzo.
He joined the Mets as a manager of the Kingsport Mets in 2000. In 2001 he managed the Brooklyn Cyclones and then again from 2007-2008. He was replaced by Howard Johnson in 02' then he replaced George Greer for the 07-08 season before in 09 he was replaced by Pedro Lopez.
He began to work as a hitting coach for the St.Lucie Mets in 2002 then Binghamton Mets in 2003. He spent 2004-2006 as the New York Mets' Minor League Infield Coordinator He returned as manager in 2009 as he managed the the Savannah Sand Gnats and again in 2010 for the St.Lucie Mets.
Alfonzo * Johnson * Teufel * Tijerina * Wilson * Greer * Lopez * Backman * Donnelly
Ad blocker interference detected!
Wikia is a free-to-use site that makes money from advertising. We have a modified experience for viewers using ad blockers

Wikia is not accessible if you've made further modifications. Remove the custom ad blocker rule(s) and the page will load as expected.