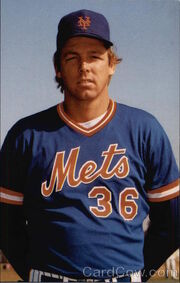 Edward Francis Lynch (born February 25, 1956 in Brooklyn, New York) is a former Major League Baseball pitcher. He pitched and batted right-handed, and his pitch selection included a fastball, slider, changeup and slurve.
Lynch played for the Mets from 1980-1986. He made his debut with the team on August 31, 1980.
Mets Executive
Edit
Lynch rejoined the Mets, but this time as an executive. In 1994 he became the Special Assistant to the Executive Vice President, Baseball Operations (Special Assistant to the GM).
Ad blocker interference detected!
Wikia is a free-to-use site that makes money from advertising. We have a modified experience for viewers using ad blockers

Wikia is not accessible if you've made further modifications. Remove the custom ad blocker rule(s) and the page will load as expected.