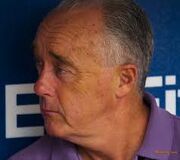 Ed Coleman (born 1949 in Lawrence, Massachusetts) is a radio reporter/host for the New York Mets on WFAN.
In the early 1990s he co-hosted WFAN's midday show with Dave Sims. The show was nicknamed the Coleman and the Soul Man. When the show was canceled he was reassigned as WFAN's New York Mets beat reporter. Ed's duties were expanded to being host of Mets Extra (and later fill in play by play) when former host Howie Rose was hired to do play by play for Mets and Islanders games on Sportschannel New York.
He has been broadcasting Mets baseball on the radio since 1996.
External Links
Edit
Ad blocker interference detected!
Wikia is a free-to-use site that makes money from advertising. We have a modified experience for viewers using ad blockers

Wikia is not accessible if you've made further modifications. Remove the custom ad blocker rule(s) and the page will load as expected.