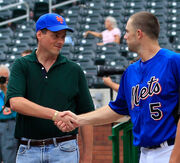 David Einhorn (born March 24, 1968) is President of Greenlight Capital, a "long-short value-oriented hedge fund", which he began with $1 million in 1996. He grew up as a Mets fan.
New York Mets
Edit
On May 26,2011 he bought a portion of the New York Mets for $200 million. But on September 1 the deal fell threw and the Mets let go of Einhorn.
Ad blocker interference detected!
Wikia is a free-to-use site that makes money from advertising. We have a modified experience for viewers using ad blockers

Wikia is not accessible if you've made further modifications. Remove the custom ad blocker rule(s) and the page will load as expected.