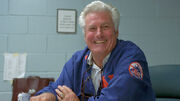 George Dallas Green (born August 4, 1934) is a former pitcher, manager, and executive in Major League Baseball.
New York Mets
Edit
Green pitched for the New York Mets only in 1966. Green replaced Jeff Torborg and was replaced by Bobby Valentine. He managed the club from 1993-1996.
Stengel * Westrum * Parker * Hodges * Berra * McMillan * Frazier * Torre * Bamberger * Howard * Johnson * Harrelson * Cubbage * Torborg * Green * Valentine * Howe * Randolph * Manuel * Collins
Ad blocker interference detected!
Wikia is a free-to-use site that makes money from advertising. We have a modified experience for viewers using ad blockers

Wikia is not accessible if you've made further modifications. Remove the custom ad blocker rule(s) and the page will load as expected.