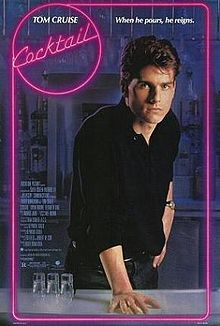 Cocktail is a 1988 American romantic drama film directed by Roger Donaldson and written by Heywood Gould, whose screenplay was based on his book of the same name. The film tells the story of a young New York City business student, Brian Flanagan, who takes up bartending in order to make ends meet.
The film stars Tom Cruise as Brian Flanagan, Bryan Brown as Doug Coughlin, and Elisabeth Shue as Jordan Mooney. Released by Touchstone Pictures, the film features an original music score composed by J. Peter Robinson.
Brian Flanagan's (Tom Cruise) Uncle Pat (Ron Dean) teaches Brian a lesson about selling and paying for the beer he poured himself. He mentions the Mets' 1969 World Series victory and Eddie (Robert Donley) demanded a round on the house to celebrate, but Pat whacked Eddie with a golf club injuring him for suggesting an idea like that.
A Mets cap is seen in the bar owned by Doug Coughlin (Bryan Brown).
Ad blocker interference detected!
Wikia is a free-to-use site that makes money from advertising. We have a modified experience for viewers using ad blockers

Wikia is not accessible if you've made further modifications. Remove the custom ad blocker rule(s) and the page will load as expected.