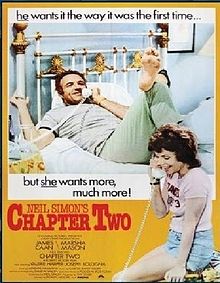 Chapter Two is a 1979 Metrocolor romantic comedy drama film directed by Robert Moore and produced by Ray Stark. It is based on Neil Simon's 1977 Broadway play of the same name.
During the baseball scene where George (James Caan) and Leo (Joseph Bologna) are playing with their team, a young boy at the park with his father behind home plate is seen wearing a Mets hat.
Leo's son is seen wearing a Mets hat when George and Jennie (Marsha Mason) visit Leo and his wife Marilyn (Debra Mooney) while they are all in the backyard.
Ad blocker interference detected!
Wikia is a free-to-use site that makes money from advertising. We have a modified experience for viewers using ad blockers

Wikia is not accessible if you've made further modifications. Remove the custom ad blocker rule(s) and the page will load as expected.