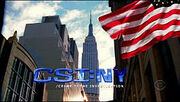 CSI: NY (Crime Scene Investigation: New York) is an American police procedural television series that ran on CBS from September 22, 2004 to February 22, 2013 for a total of nine seasons and 197 original episodes.
A debate between the characters Donald Flack, Jr and Jamie Lovato. Jamie is a Mets fan while Donald is a Yankees fan. That clip can be seen here.
Ad blocker interference detected!
Wikia is a free-to-use site that makes money from advertising. We have a modified experience for viewers using ad blockers

Wikia is not accessible if you've made further modifications. Remove the custom ad blocker rule(s) and the page will load as expected.