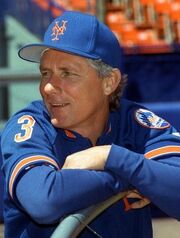 Derrel McKinley "Bud" Harrelson (born June 6, 1944) is a former Major League Baseball shortstop who played for the New York Mets, Philadelphia Phillies and Texas Rangers from 1965 to 1980.
New York Mets
Edit
He started his playing career with the New York Mets from 1965-1977. He made his debut on September 2. He is known for his legendary fight with Pete Rose. For more see it here.
Harrelson was manager for the team from 1990-1991. He was also coach from 1982, 1985-1990. As the third base coach he replaced and was replaced by Sam Perlozzo. He replaced Davey Johnson. He was replaced by Mike Cubbage.
Stengel * Westrum * Parker * Hodges * Berra * McMillan * Frazier * Torre * Bamberger * Howard * Johnson * Harrelson * Cubbage * Torborg * Green * Valentine * Howe * Randolph * Manuel * Collins
Ad blocker interference detected!
Wikia is a free-to-use site that makes money from advertising. We have a modified experience for viewers using ad blockers

Wikia is not accessible if you've made further modifications. Remove the custom ad blocker rule(s) and the page will load as expected.