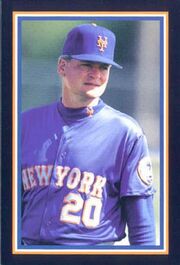 Bruce Edwin Benedict (born August 18, 1955 in Birmingham, Alabama) is an American former professional baseball player, coach and scout.
Bruce had several positions in the Mets organization. He served as a coach for the Mets from 1997-1999. He served as the Special Assistant to the General Manager only for 2004 replacing Fred Wright. He was replaced by Al Goldis and Bill Livesey.
He managed in the Mets minor-league system, then became an advance scout for the major-league team. He resigned his position in 2006.
Ad blocker interference detected!
Wikia is a free-to-use site that makes money from advertising. We have a modified experience for viewers using ad blockers

Wikia is not accessible if you've made further modifications. Remove the custom ad blocker rule(s) and the page will load as expected.