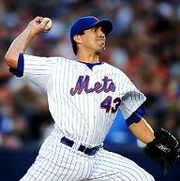 Brian Alexander Stokes (born September 7, 1979 in Montclair, California) is an American professional baseball player. A right-handed starting pitcher, he currently plays for the Arizona Diamondbacks of Major League Baseball.
He came to the mets by the Tampa Bay Rays on November 28,2007 for cash reasons. He was with the mets from 2008 until 2009.
He was traded to the Angels for Gary Matthews Jr. on January 22,2010.
Ad blocker interference detected!
Wikia is a free-to-use site that makes money from advertising. We have a modified experience for viewers using ad blockers

Wikia is not accessible if you've made further modifications. Remove the custom ad blocker rule(s) and the page will load as expected.