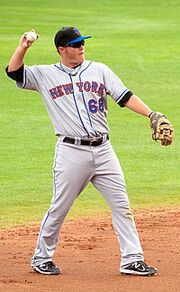 Bradley Mark Emaus (born March 28, 1986) is a Major League Baseball infielder who is a free agent.
Age: 26 (born March 28,1986)
Position: Second baseman
Bats: Right Throws: Right
Number: 4
Acquired: Rule 5 Draft
Contract: Minor League
He was chosen by the Mets from the Rule 5 Draft from the Toronto Blue Jays. He made his debut on April 1. He got his first major league hit on April 2 off Florida Marlins pitcher Ricky Nolasco and it was mishandled by Marlins Shortstop infielder Hanley Ramirez which got knocked up and back down off his glove.
He was DFA by the Mets on April 19.
On April 25 Emaus signed a minor league deal with the Mets and was sent down to Triple-A Buffalo Bisons.
Ad blocker interference detected!
Wikia is a free-to-use site that makes money from advertising. We have a modified experience for viewers using ad blockers

Wikia is not accessible if you've made further modifications. Remove the custom ad blocker rule(s) and the page will load as expected.