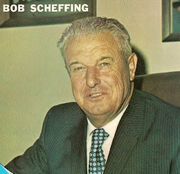 Robert Boden Scheffing (August 11, 1913 – October 26, 1985) was an American baseball player, coach, manager and front-office executive.
New York Mets
Edit
Bob served as the General Manager of the New York Mets from 1970-1974. He replaced Johnny Murphy. He was replaced by Joe McDonald. After leaving as GM he remained as a scout in the ball club. From '71-'74 as GM he served as the vice president replacing Murphy and replaced by McDonald. He would later become an assistant in the title as Special Consultant from 1978-1979. Then in the title of Baseball Operations only for 1980.
Weiss * Devine * Murphy * Scheffing * McDonald * Cashen * Harazin * McIlvaine * Phillips * Duquette * Minaya * Ricco (interim) * Alderson
Ad blocker interference detected!
Wikia is a free-to-use site that makes money from advertising. We have a modified experience for viewers using ad blockers

Wikia is not accessible if you've made further modifications. Remove the custom ad blocker rule(s) and the page will load as expected.