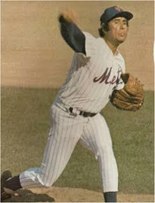 Robert John Apodaca, otherwise known as Bob Apodaca (born January 31, 1950, in Los Angeles, California) is the pitching coach for the Colorado Rockies.
He played for the Mets from 1973-1977. He started and ended his career on the same month and the date which was September 18.
He served as the Mets pitching coach from 1996 to 1999. He replaced Mel Stottlemyre. He was replaced by Dave Wallace.
Ad blocker interference detected!
Wikia is a free-to-use site that makes money from advertising. We have a modified experience for viewers using ad blockers

Wikia is not accessible if you've made further modifications. Remove the custom ad blocker rule(s) and the page will load as expected.