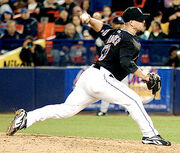 William Edward Wagner (born July 25, 1971, in Tannersville, Virginia), nicknamed "Billy the Kid" is a former MLB pitcher. He played for the Mets since 2006 until 2009.
He was on the DL in September 2008. He was replaced by former mets closer Francisco Rodriguez.
In 2009 he came back making his first appearance for the year and the only as he pitched a perfect 8th inning with two strikeouts on August 20. Then later in the season he was traded to the Boston Red Sox for Chris Carter on August 21.
But after the 09 season he signed with the rival Atlanta Braves to a one year contract. The Braves was the team he wanted to play for since he was a kid.
Ad blocker interference detected!
Wikia is a free-to-use site that makes money from advertising. We have a modified experience for viewers using ad blockers

Wikia is not accessible if you've made further modifications. Remove the custom ad blocker rule(s) and the page will load as expected.