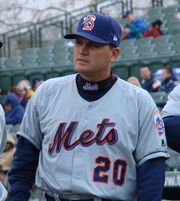 William Arthur Masse (born July 6, 1966 in Manchester, Connecticut) is a retired professional baseball outfielder.
Masse was the hitting coach for the Buffalo Bisons in June of 09 replacing Luis Natera. Before being a coach in Buffalo he was the hitting coach for the Binghamton Mets in 2009. He was replaced by Natera in Binghamton. He was replaced by Jack Voigt for 2010.
Ad blocker interference detected!
Wikia is a free-to-use site that makes money from advertising. We have a modified experience for viewers using ad blockers

Wikia is not accessible if you've made further modifications. Remove the custom ad blocker rule(s) and the page will load as expected.