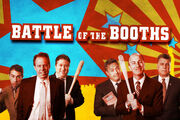 Battle of the Broadcasters is a program on SNY. It began in 2014. The show is in the format of a regular trivia game show. Hosted by Kevin Burkhardt, "Battle of the Broadcasters" matches the critically acclaimed broadcast booth of Gary Cohen, Keith Hernandez, and Ron Darling against the WOR team of Howie Rose, Josh Lewin, and Seth Everett in a head-to-head battle of the minds with a series of tests to determine which team knows the most about the Mets. The show is presented by Citi. The show was taped on Tuesday, June 24 at the SNY studios in New York. There is also an audience that watched the taping of the show. In 2015, it became Beat the Booth.
Battle of the Broadcasters puts them through the wringer with four rounds of challenging Mets trivia questions developed exclusively by the Elias Sports Bureau. The rounds, modeled after the most memorable game shows of yesteryear, include Terrific Trivia, a rapid fire round of far-ranging questions; Three Strikes and You're Out, where teams battle the clock to provide the most correct answers to a single question before accumulating three incorrect responses; Shea What?, a head-to-head contest where both teams race to buzz in first with correct answers; and Ya Gotta Believe, a contest reminiscent of the old "Pyramid" game show where one teammate provides clues to his partners who work to identify the correct answers.
For their triumphant efforts, along with the bragging rights that come with being crowned the most knowledgeable Mets booth in the business, the winning team will walk away with the "SNY Battle of the Broadcasters" trophy, as well as a contribution made by SNY to the charity of their choice.
Mr. Met also makes an appearance on the show. Mr. Met presented the questions, the trophy and was polishing and guarding it.
The types of games on the show are:
Terrific Trivia-One minute to answer a trivia question in order and if one can't answer the question, he can pass it on to a team member who will be asked a new question. Right answers get 5 points and no deductions for wrong answers. Team SNY won the coin toss backstage and Howie bribes Kevin, but no points added before the round begins for them.
Team SNY got 30 points; Team WOR got 15 points
Three Strikes and You're Out-One minute to answer a question with multiple answers. 3 strikes before your minute is over, your turn is over. No pass as it is a strike and wrong answers will also count as a strike. Each team will have two turns. It started with WOR and then SNY. 10 points for right answers and no deductions for wrong answers. Howie Rose had a cheat sheet that got thrown away by Kevin.
Team SNY got 70 points added to make it 100, then 100 to make it 200; Team WOR got 130 points added to make it 145, then 90 to make it 235
Shea What?-Three minutes and the first team to buzz to answer a question has to go first. The team has six seconds to confirm an answer before giving one. If a team gets a wrong answer or no answer then the other team can steal. 1 point for right answers and 20 point deduction for a wrong answer.
Team SNY got 115 points added to make it 260; Team WOR got 20 points added to make it 255
Ya Gotta Believe-The team captains (Gary Cohen and Howie Rose) provide clues for their team members for them to guess a Mets player. Full names have to be given as an answer and part of the name can't be given as part of the clues. The leading team after the third round went first (SNY). It lasts for a minute and thirty seconds. 30 points for right answers.
Team SNY got it's score to be 650; Team WOR got it's score to be 525
Team SNY won the Battle of the Broadcasters. In the SNY booth following the victory, the trophy was shown during the broadcast of the next Mets game.
External Links
Edit
News & Debate
Daily News Live|Loud Mouths|Covino & Rich|SportsNite
SNY Originals
Beer Money|SNY Invitational|SNY Spotlight|Oh Yeah|Baseball Night in New York
Mets
New York Mets Season Games|Mets First Pitch|Mets Pre-Game Live|Mets Post-Game Live|Mets Fast Forward|Mets Insider|Kids Clubhouse|Mets Classics|UltiMet Moments|UltiMet Classics|Mets Hot Stove|Mets Talk Live|Simply Amazin'|Miracle in New York|Mets Yearbook|Mets Year in Review|Minor League Baseball
Playoff Coverage
Mets Playoffs Live|Mets First Pitch: Playoff Edition|Mets On Deck: Playoff Edition|Mets Playoffs Extra
Specials
Shea Goodbye: 45 Years of Amazin|Dem Bums, The Brooklyn Dodgers|Going Home|MLB's 20 Greatest Games|Ralph Kiner: 50 Amazin' Years|The Brooklyn Cyclones: Baseball on the Boardwalk|Reflections on 9/11: The NY Mets Remember|The 50 Greatest Mets|Mets All-Time Team|R.A. Dickey: A Season to Remember|Mets Hall of Fame: John Franco|Mets Hall of Fame: Mike Piazza|Battle of the Broadcasters|The Good Doctor|Beat the Booth
Online
Former
Softball 360|Street Games|Baseball in Africa: A Diamond in the Rough|Future Phenoms|Citi Field Special|2007 New York Mets Season Recap|Subway Series|Shea Goodbye: the Closing Ceremony|2008 UltiMET Moments: Amazin' Finishes|Citi Field: The Opening of a New Home|Yard Work|The WheelHouse|Mets Weekly|The Nooner|Kiner's Korner|The Baseball Show|Know Your Enemy|Recapr
Mets On-Air Talent
Gary Cohen|Ron Darling|Keith Hernandez|Nelson Figueroa|Bobby Valentine
SNY's News and Entertainment Team
Gary Apple|Joe Benigno|Kerith Burke|Chris Carlin|Meghan Culmo|Brian Custer|Jeane Coakley|Steve Covino & Rich Davis|Alexa Datt|Jim Duquette|Courtney Fallon|Eric Frede|Steve Gelbs|Kirk Gimenez|Frank Isola|Kris Jenkins|Roy S. Johnson|Joe Klecko|Sal Licata|Ray Lucas|Andy Martino|Eamon McAnaney|Don McPherson|Marc Malusis|Sean Mulcahy|Sweeny Murti|C.J. Papa|Larry Ridley|Jonas Schwartz|Doug Williams|Kara Wolters|Michelle Yu
Other
Alex Anthony|Scott Braun|Don Jamieson|Steve Raab|Mayleen Ramey
Former Mets On-Air Talent
Kevin Burkhardt|Lee Mazzilli|Harold Reynolds|Matt Yallof|Darryl Strawberry|Ralph Kiner|Bob Ojeda
Former SNY's News and Entertainment Team
Steve Berthiaume|Andrew Catalon|Kenny Choi|Chris Cotter|Scott Ferrall|John Franco|David Lee|Siafa Lewis|Meredith Marakovits|Roman Oben|Steve Overmyer|Adam Schein|Peter Schrager|Brandon Tierney|Lou Tilley
Former Other
Julie Alexandria|Alissa Ali|Ted Berg|Gabe Cohen|Amanda Cole|Julie Donaldson|Caitlin Fichtel|Neha Joy|Jon Litner|Duke McGuire|Kaitlin Monte|Alexi Panos|Jocelyn Pierce|Heather Prusak|Dan Schachner|Tiffany Simons|Brittany Umar|Ben Wagner|Amber Wilson|Jacob Resnick
Ad blocker interference detected!
Wikia is a free-to-use site that makes money from advertising. We have a modified experience for viewers using ad blockers

Wikia is not accessible if you've made further modifications. Remove the custom ad blocker rule(s) and the page will load as expected.