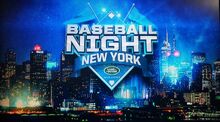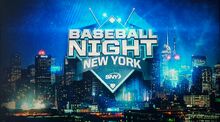 SNY Show

Name

Baseball Night in New York (BNNY)

Host

Seasons

2

Original Run

2015-present

Format

Off-Season Mets and Yankees coverage

Running Time

30 min

Preceded by

Succeeded by

Jets/UCONN programming

President
Baseball Night in New York (BNNY) is a show on SNY that covers the Mets and Yankees including non-baseball related topics during the baseball off-season from November to late February. The show premiered on November 17, 2015 to February 26, 2016 for its first season. The show is hosted by Doug Williams at six p.m. with reruns at ten p.m. The show airs every Tuesday, Wednesday and Friday. It was sponsored by Land Rover for its first season. Mets general manager Sandy Alderson was a guest on February 5, 2016 featuring Andy Martino and Sal Licata who were dubbed "Panic City" for their overreaction and bleak outlook on the Mets chances for the then-upcoming 2016 season. Sandy returned on February 7, 2017 with both Martino, Licata and Jim Duquette. On February 15, New Jersey Governor Chris Christie appeared on the show which caused an uproar over his comments regarding the Philadelphia Phillies using the Ya Gotta Believe slogan on their clubhouse wall down in Clearwater. Christie stated: "The Phillies suck. Let's just start with that," Christie said. "They're from Philadelphia. They're an awful team. They're an angry, bitter fan base and it's not safe for civilized people to go to Citizens Bank Park if you want to root for the other team. Ya gotta believe what? Ya gotta believe we're awful people." Christie's appearance was coincided with Martino, Marc Malusis and Anthony McCarron.
The show returned for a second season on November 15, 2016 where it was left sponsor-less until January 10, 2016 when it was sponsored by Jeep until February 17, 2017. The logo was featured on the monitor on the set of the show but never on the logo during the opening montage of the show.
Taking the Lead
Edit
First/opening topic of the show.
Gut Instinct
Edit
Two of the cast members give their top free agent predictions and where players might possibly land with which team and for how much.
Decent Proposal
Edit
A proposed trade idea presented by the hosts to both the Mets and Yankees.
Rumors and Rumblings
Edit
The latest rumors involving players and teams during the off-season. It was sponsored by Land Rover during the first season.
Free Agent DNA
Edit
Possible free agent signings with either baseball team in New York.
Contract Construction
Edit
Possible future player contracts with either the Mets or Yankees.
Let's Overact!
Edit
The hosts overact to a possible event in the future relating to the two teams.
Rouge Opinion
Edit
Each panelist give their own opinion regarding a baseball related topic.
In Retrospect
Edit
The shows takes a look back at one of the statements made by one the cast members and reflect on them now.
This Date in New York History
Edit
Historical events in New York City sports and non-sports history.
Call to the Bullpen
Edit
This segment brings in a cast member usually either Sal Licata or Marc Malusis to give their take on a topic.
Great Moments in Reporting History
Edit
The shows takes a look back at the archives at either John Harper or Steve Gelbs when covering Mets players or during Mets games as in the case for Gelbs during the comical moments.
Twitter Poll
Edit
The show before taking a commercial break ask viewers to take a poll on twitter and following the break show and analyze the results.
A Social Gathering
Edit
During the first season Alexa Datt would present the latest happening in the world of baseball on or through social media.
Out of Left Field
Edit
Random or weird topic.
The Walk-off
Edit
Change of subject/last topic.
The show shows all the stats on players and other stuff involving the Mets & MLB. It was sponsored by Land Rover' during the first season.
News & Debate
Daily News Live|Loud Mouths|Covino & Rich|SportsNite
SNY Originals
Beer Money|SNY Invitational|SNY Spotlight|Oh Yeah|Baseball Night in New York
Mets
New York Mets Season Games|Mets First Pitch|Mets Pre-Game Live|Mets Post-Game Live|Mets Fast Forward|Mets Insider|Kids Clubhouse|Mets Classics|UltiMet Moments|UltiMet Classics|Mets Hot Stove|Mets Talk Live|Simply Amazin'|Miracle in New York|Mets Yearbook|Mets Year in Review|Minor League Baseball
Playoff Coverage
Mets Playoffs Live|Mets First Pitch: Playoff Edition|Mets On Deck: Playoff Edition|Mets Playoffs Extra
Specials
Shea Goodbye: 45 Years of Amazin|Dem Bums, The Brooklyn Dodgers|Going Home|MLB's 20 Greatest Games|Ralph Kiner: 50 Amazin' Years|The Brooklyn Cyclones: Baseball on the Boardwalk|Reflections on 9/11: The NY Mets Remember|The 50 Greatest Mets|Mets All-Time Team|R.A. Dickey: A Season to Remember|Mets Hall of Fame: John Franco|Mets Hall of Fame: Mike Piazza|Battle of the Broadcasters|The Good Doctor|Beat the Booth
Online
Former
Softball 360|Street Games|Baseball in Africa: A Diamond in the Rough|Future Phenoms|Citi Field Special|2007 New York Mets Season Recap|Subway Series|Shea Goodbye: the Closing Ceremony|2008 UltiMET Moments: Amazin' Finishes|Citi Field: The Opening of a New Home|Yard Work|The WheelHouse|Mets Weekly|The Nooner|Kiner's Korner|The Baseball Show|Know Your Enemy|Recapr
Mets On-Air Talent
Gary Cohen|Ron Darling|Keith Hernandez|Nelson Figueroa|Bobby Valentine
SNY's News and Entertainment Team
Gary Apple|Joe Benigno|Kerith Burke|Chris Carlin|Meghan Culmo|Brian Custer|Jeane Coakley|Steve Covino & Rich Davis|Alexa Datt|Jim Duquette|Courtney Fallon|Eric Frede|Steve Gelbs|Kirk Gimenez|Frank Isola|Kris Jenkins|Roy S. Johnson|Joe Klecko|Sal Licata|Ray Lucas|Andy Martino|Eamon McAnaney|Don McPherson|Marc Malusis|Sean Mulcahy|Sweeny Murti|C.J. Papa|Larry Ridley|Jonas Schwartz|Doug Williams|Kara Wolters|Michelle Yu
Other
Alex Anthony|Scott Braun|Don Jamieson|Steve Raab|Mayleen Ramey
Former Mets On-Air Talent
Kevin Burkhardt|Lee Mazzilli|Harold Reynolds|Matt Yallof|Darryl Strawberry|Ralph Kiner|Bob Ojeda
Former SNY's News and Entertainment Team
Steve Berthiaume|Andrew Catalon|Kenny Choi|Chris Cotter|Scott Ferrall|John Franco|David Lee|Siafa Lewis|Meredith Marakovits|Roman Oben|Steve Overmyer|Adam Schein|Peter Schrager|Brandon Tierney|Lou Tilley
Former Other
Julie Alexandria|Alissa Ali|Ted Berg|Gabe Cohen|Amanda Cole|Julie Donaldson|Caitlin Fichtel|Neha Joy|Jon Litner|Duke McGuire|Kaitlin Monte|Alexi Panos|Jocelyn Pierce|Heather Prusak|Dan Schachner|Tiffany Simons|Brittany Umar|Ben Wagner|Amber Wilson|Jacob Resnick
Ad blocker interference detected!
Wikia is a free-to-use site that makes money from advertising. We have a modified experience for viewers using ad blockers

Wikia is not accessible if you've made further modifications. Remove the custom ad blocker rule(s) and the page will load as expected.